10 July 2020
Sydney Morning Herald
A tradesman who fell ten metres down an unmarked mine shaft while trail biking with his son in a state forest is preparing to sue the Forestry Corporation of NSW.
Brad Osborne, a 53-year-old concreter, was knocked unconscious, broke ribs and both ankles, dislocated his arm, fractured a shoulder, tore ligaments and cut open his arms in the accident, which left him trapped in a freezing dark hole underground.
"The pain was unbelievable," he said. "It was really hard for me to breathe. I lay there for hours just trying to take a breath in and out. I was shaking uncontrollably."
Mr Osborne's son Brody Osborne, 23, called triple zero and talked his father through the three-hour ordeal at Sunny Corner State Forest, located between Bathurst and Lithgow, until a police rescue team and paramedics pulled him out on ropes and he was taken to Westmead Hospital.Advertisementhttps://9ad7584a399cb63a4c62c07249e8e77e.safeframe.googlesyndication.com/safeframe/1-0-37/html/container.html
The Osbornes have written to the Forestry Corporation pleading for mine shafts in state forests to be covered or warning signs to be installed.
Mr Osborne, from Bateau Bay on the Central Coast, is planning to launch legal action over the accident on May 11, which has left him unable to use his shoulder, suffering flashbacks and in ongoing pain.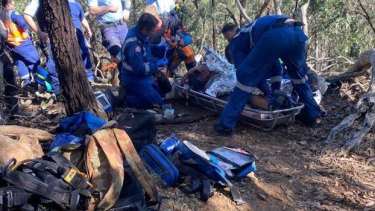 "Even in hospital, they were giving me all these drugs and I was screaming all night," he said. "I'm in pain all the time, it's like torture."
Mr Osborne said his specialist has told him it's unlikely he will be able to return to work as a concreter nor ride trail bikes with his children again.
Elle Dalzell, of Shine Lawyers, will argue there should have been obvious warning signs, barriers and fencing to warn park-goers of the dangers.
"Our client went through terrible mental and physical pain while his traumatised son watched on, fearing his dad was dying," she said.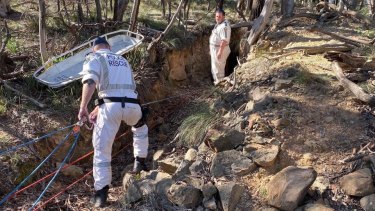 Much of the central west's state forest land is in legacy mining areas. Forestry Corporation of NSW admits it does not know all the locations of old mine shafts but says it's working to identify and remediate them.
Sunny Corner State Forest, which is popular with riders and hosts an annual trail bike rally, was the site of Australia's first successful silver mine and smelting operation in the late 19th Century.
Jason Molkentin, regional manager for Northern Softwoods at the Forestry Corporation, said he was concerned to hear about the accident but emphasised there are hazards in the forests.
"In terms of the particular number of mine shafts, that's unknown," he said. "We know that it was a well-used mining area and we are progressively identifying mine shafts in that section of state forests."
Shafts could be remediated by being filled in or blocked with physical barriers, he said, but in the meantime, visitors are advised to take responsibility for their own welfare.
In 2016, Manly trail bike rider Lachlan Smith fell down a shaft at Sunny Corner and it is believed at least one other person has fallen down a shaft in another state forest since then.
https://www.smh.com.au/national/nsw/the-pain-was-unbelievable-trail-bike-rider-who-fell-10m-down-a-mine-shaft-to-sue-20200701-p5585q.html?fbclid=IwAR29Mmuj1hU82jXkN7bAeqNjc61LFfuzQwV3vqHeRn0N_Ig4IdBaHlSyIqg